Roasted White Beans & Tomatoes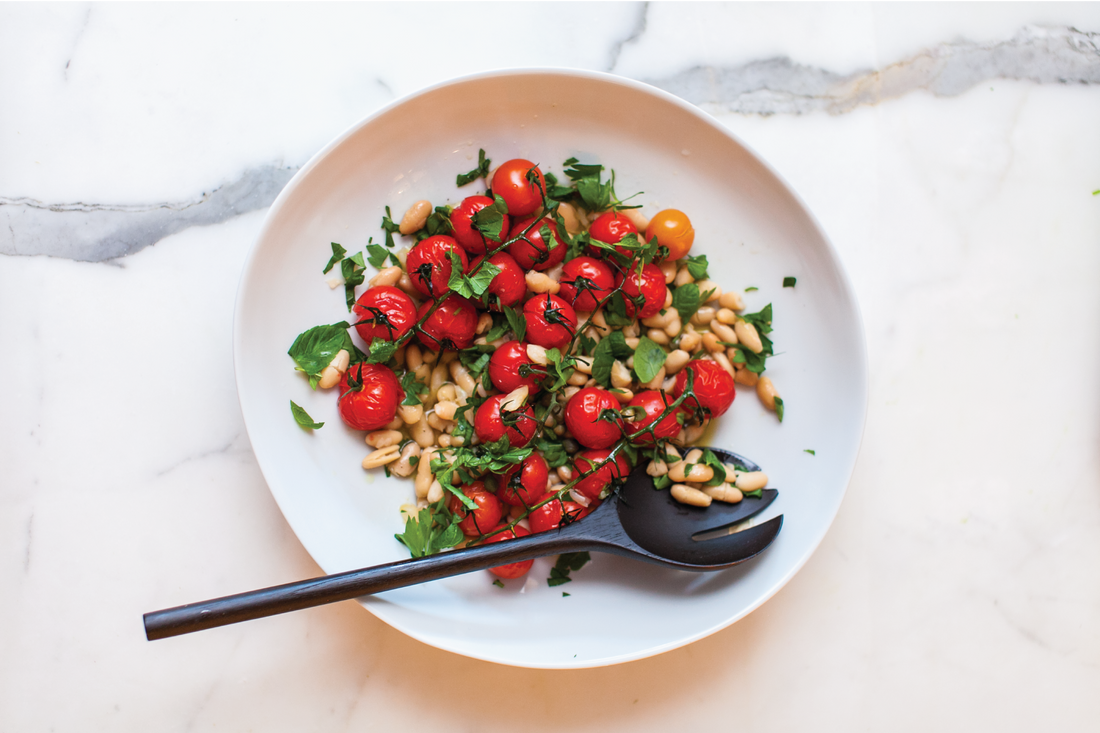 White beans and tomatoes are a natural mix. Add capers and herbs and you've got a totally satisfying meal (or side) that's easy to pull together.
Ingredients
_____________
Dressing: 
1/4 teaspoon Dijon mustard
1 1/14 tablespoons white balsamic vinegar
7 tablespoons extra virgin olive oil
1 teaspoon chopped jalapeno or Fresno chili pepper (halve and seed the pepper before chopping (or 1/8 teaspoon of red pepper flakes)
1 small garlic clove, finely grated
1 1/2 cup cooked Silver Cloud Cannellini beans (from 1/2 cup dried)
1lb 2oz cherry tomatoes
1 1/4 tablespoons capers
1/4 cup of fresh mint, chopped (or fresh basil, leaves torn, or finely chopped parsely)
sea salt flakes and freshly ground pepper
Steps
_____________
1. 
Preheat the oven to 400F. For the dressing, add the mustard and white balsamic vinegar together in a small bowl, season with salt and pepper, and whisk together. Slowly add in 5 tablespoons of olive oil and continue whisking. Add the grated garlic and chopped jalapeno. Stir to combine, then toss half of this with the white beans in a rimmed baking dish. 
2. 
Place the cherry tomatoes on top of the beans and drizzle with the remaining dressing. Season with more salt and pepper. Roast the beans and tomatoes for about 15 minutes, until the tomatoes are nice and soft, but not mushy.  
3. 
Let the dish cool a little, then add the chopped capers and mint (or whatever herb you're using) to the dish. Enjoy immediately.
Recipe inspired by Diana Henry's dish in her cookbook, From the Oven to the Table. In that version, the beans are left cold - which is delicious. But, here, we've decided to roast everything for a cozy, one-pan dinner.