Black Bean Tacos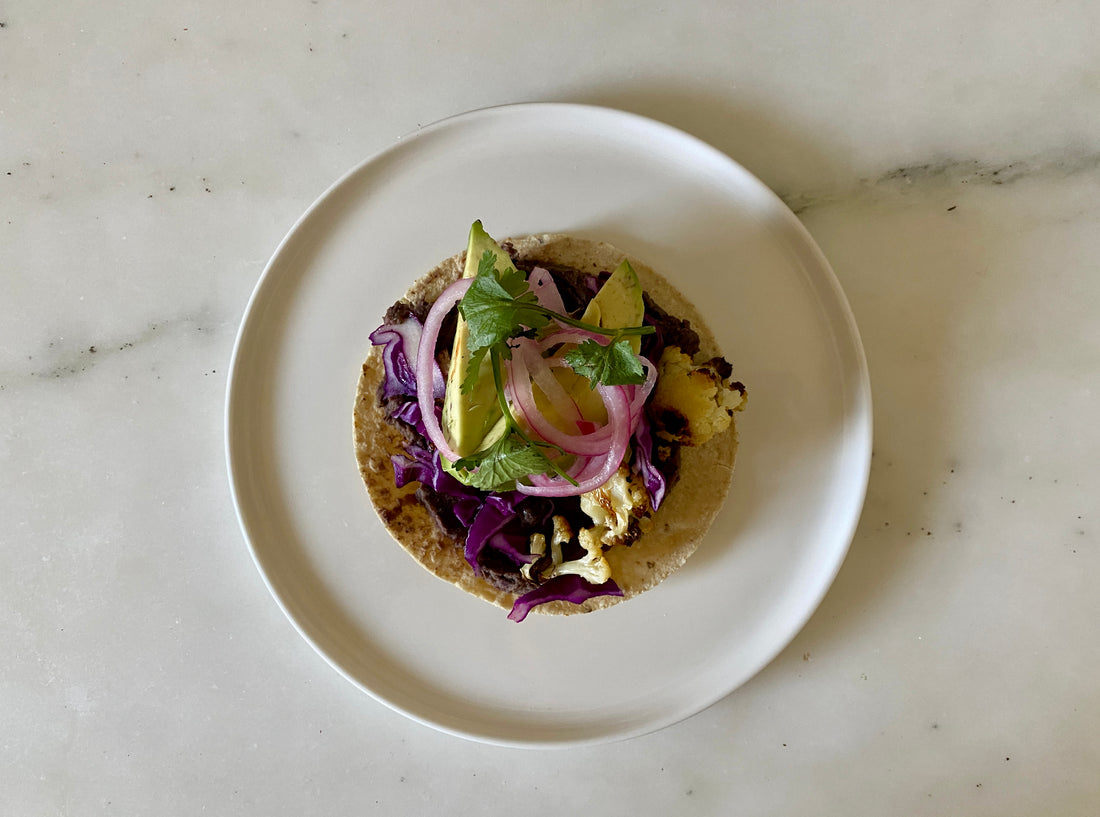 Tacos are a staple in our homes. We love to start with a good layer of black bean paste and top it with any sort of roasted vegetable, some greens, pickled onions, cabbage and carrot slaw, or whatever else you choose to add color, taste, and texture. 
_____________
Black Bean Paste
1 ½ cups cooked black beans (from 

½ cup dried)

½ teaspoon ground cumin

1 teaspoon ground coriander
1/8 teaspoon cayenne pepper

Chopped cilantro (about ⅓ cup)

Juice of 1 lime

¼ teaspoon salt
Put all the ingredients in a food processor and blend until smooth. 
_____________
Pickled Onions
1 medium red onion, thinly sliced 

½ cup of white vinegar or apple cider vinegar

1 teaspoon salt

Juice of 1 lime

Water (optional)
There are a lot of pickled onion recipes that involve cooking and more ingredients. Most have sugar in them. Honestly, we just throw these ingredients into a mason jar, put the lid on, shake vigorously, and let them sit at least 30 minutes before eating. You can top up the level with water, since most people say to cover the onions completely. But we find that once they pickle, the onions soften up and end up being fully immersed in liquid anyways. 
Try this out and let us know if you do something different. But, this ridiculously simple method works for us! 
Anyhow, to assemble your taco, take a tortilla, add a layer of the black bean paste, then the vegetables, some sliced avocado, pickled onions, and garnish with cilantro - or really whatever you want! 
Cabbage + Carrot Slaw
½

small red cabbage, cored and thinly slices
2 large carrots, grated
Cilantro, chopped
Juice of 1 lime

¼ cup of olive oil

Salt
Here's another taco topping that isn't even really a recipe. We just throw these ingredients into a bowl, season with olive oil, lime and some salt and add on top of tacos. Colorful, tasty, and easy. Done. 
Black beans paste inspired by Ottolenghi.