Munggo-Inspired Lentil Stew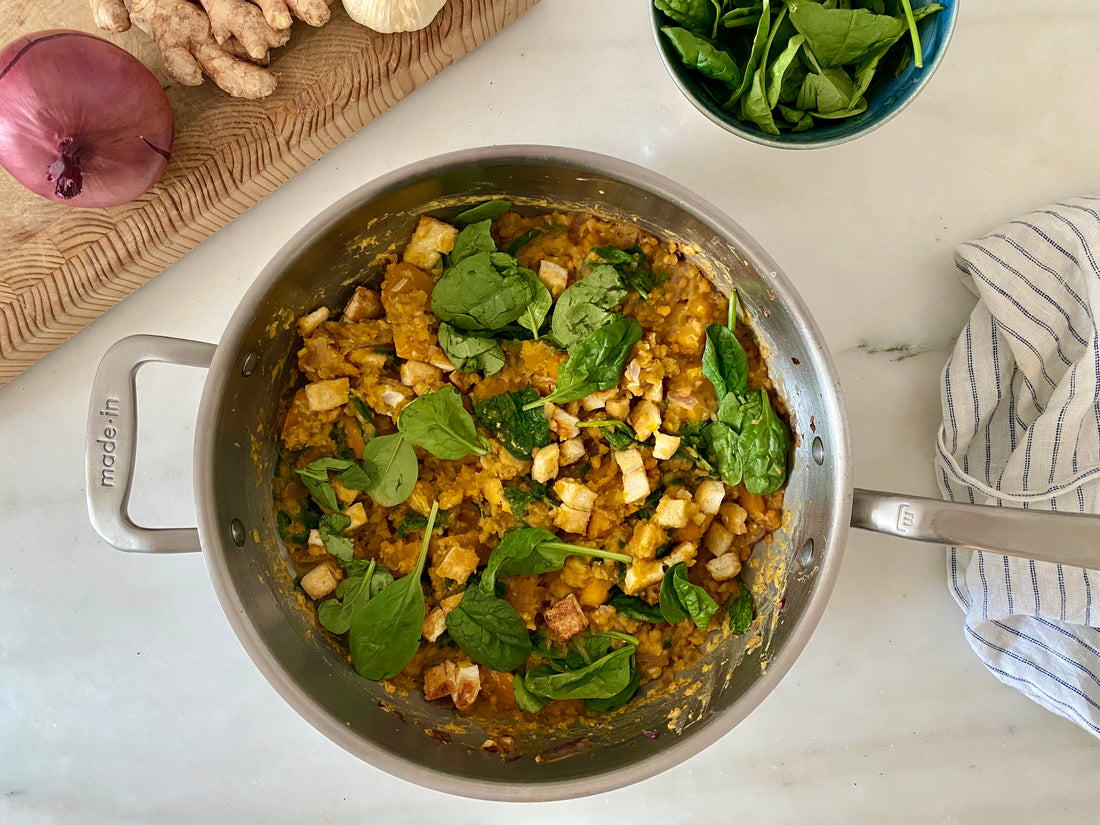 Munggo is a traditional Filipino dish that is nourishing, versatile, and a staple in many families' diets. We don't yet offer mung beans, so we decided to mix things up and substitute our Petite Crimson Lentils in this dish. With a base of onion, garlic, and ginger, there are so many ways to make this your own. Here's how we've flavored ours:
Ingredients
_____________
1 cup Petite Crimson Lentils, rinsed
2 1/2 cups of water (for lentils), plus 1/2 cup water for squash
2 tablespoons coconut oil, divided
1 medium red onion, diced
3 cloves of garlic, minced
1 tablespoon of ginger, minced
1 block of tofu (~100g), pressed to remove water, and cubed 
2 cups of kabocha squash, skin removed, and cubed
2 cups spinach leaves 
2/3 cups of coconut milk 
Steps
_____________
1. 
Heat a non-stick pan over medium heat. Melt 1 tablespoon of coconut oil. Place the tofu cubes in the pan and cook, undisturbed, until browned on one side. Then flip, and cook the other side until browned. Remove from pan. 
2. 
In a large skillet, melt the remaining coconut oil. Add the onion and saute until translucent. Then add the garlic and ginger and cook until fragrant. Add the squash and ~1/2 cup of water. Bring to a boil, then reduce heat and cover the pan. Cook until the squash has softened. 
3. 
While the squash is cooking, prepare your lentils. Add 2 1/2 cups of water to a pot with 1 cup of rinsed lentils. Bring to a boil, then reduce heat and simmer, uncovered for 5-10 minutes. 
4. 
Once the squash mixture is cooked and the lentils are done, add the lentils into the squash mixture. Then add the coconut milk and stir so ingredients are evenly mixed. Add the spinach and cook until wilted. Finally, add the tofu pieces. 
Serve with rice or as a stand-alone dish. Garnish with cilantro or with whatever you see fit. 
Inspired by Simply Bakings and Astig Vegan